To assign a commission to a publisher, several methods of conversion attribution can be used. Daisycon's Shopping Cart Pixel makes it possible to reserve a commission for one specific publisher at the beginning of the checkout process. This way voucher code publisher can still add value to your program.
Let's take a look at the current situation
Say; a consumer visits a shop through a banner from publisher A. The consumer adds a product to the online shopping cart. While finishing the order he decides to do a last minute search for a voucher or coupon code, which is acquired through publisher B. As he clicks on Publisher B´s media and finally completes the order, the transaction and the complete commission is assigned to publisher B.
A new way to assign commission
The Shopping Cart Pixel is a new method for dealing with voucher code publishers within affiliate marketing. This feature offers the advertiser the possibility to assign a (possible) transaction to a publisher, for the length of an agreed time, as soon as the visitor places a product in the on-line shopping cart. Even if the visitor (temporarily) leaves the websites, once the order is fulfilled the revenue will not be rewarded to other publishers.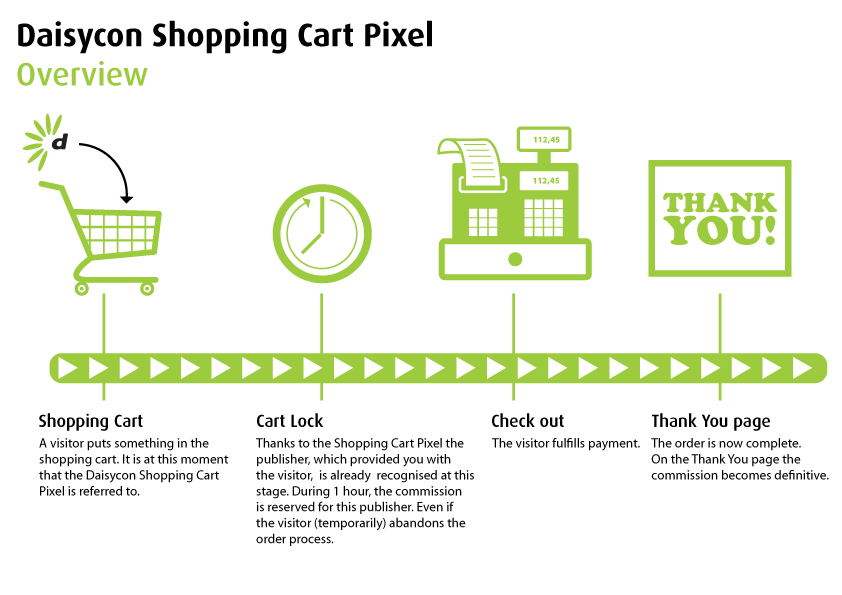 Technical Details
The shopping cart pixel can be retreived in the online interface in the left menu under Settings → Conversion codes → Daisycon shopping cart.
Implementing the Shopping Cart Pixel is easy to do in many systems. Paste the shopping cart script in the cart / checkout template. It is also possible using Google Tag Manager. To do this, create a custom html tag and make sure it is triggered on the page where the consumer can enters a discount code.
To get the most out of this feature, we recommended contacting your Channel Manager to ensure the correct use of the Shopping Cart Pixel.
You can create the Shopping Cart Pixel via the 'tools' section on the left side in your dashboard. By clicking 'conversion codes' and choosing Shopping Cart Pixel you can set up the code. Below an example of the pixel, where your program-id will replace the element "si=X".
Want to know more?
Would you like to know more about the advantages and the settings of the Shopping Cart Pixel? Please contact your account- or channel manager.
*note: activating the cart lock will only reserve a commission for a publisher if this publisher has actually sent the visitor. In case the visitor was sent by a publisher not active within the Daisycon network, the cart lock will have no effect.